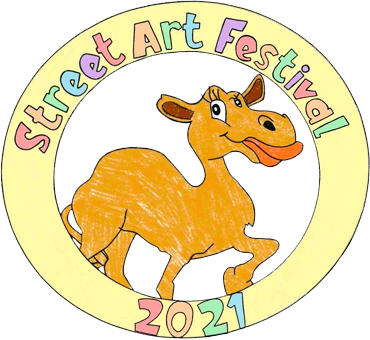 Chalk Up Kindness & Creativity
The Camel Project is proud to present
The 2021 Street Art Festival
Family Fun Day
Medium: Sidewalk Chalk on Asphalt
Saturday, June 5th, 2021
9 am to 2 pm(Rain date: June 12, 2021)
Reading Muhlenberg Career and Technology Center
2615 Warren Rd, Reading, PA 19604 (map)
Come join the fun at the Street Art Festival. Show off your talents with chalk on the asphalt paved lots at RMCTC. It's free for everyone. All ages welcome. There will be food, entertainment, and lots of other activities for children and adults. We'll provide the chalk, or you can bring your own.
Free admission for artists of all ages and everyone else.
Artists click here to reserve a space and to get your free chalk.
(We are looking for additional sponsors and vendors. See below.)
Please note: all Covid-19 restrictions as of the event date will be followed for all attendees, including participants, spectators, and vendors. Social distancing rules will be in effect and suitable masks must be worn at all times. There will be body temperature checks at the registration station and randomly during the event. Hand sanitizer will be available at the registration table located at the Camel Caravan advocacy bus. Please do not attend if you or anyone in your party is sick or not feeling well. Anyone not following the Covid-19 restrictions will be asked to leave the event.